Arachnids.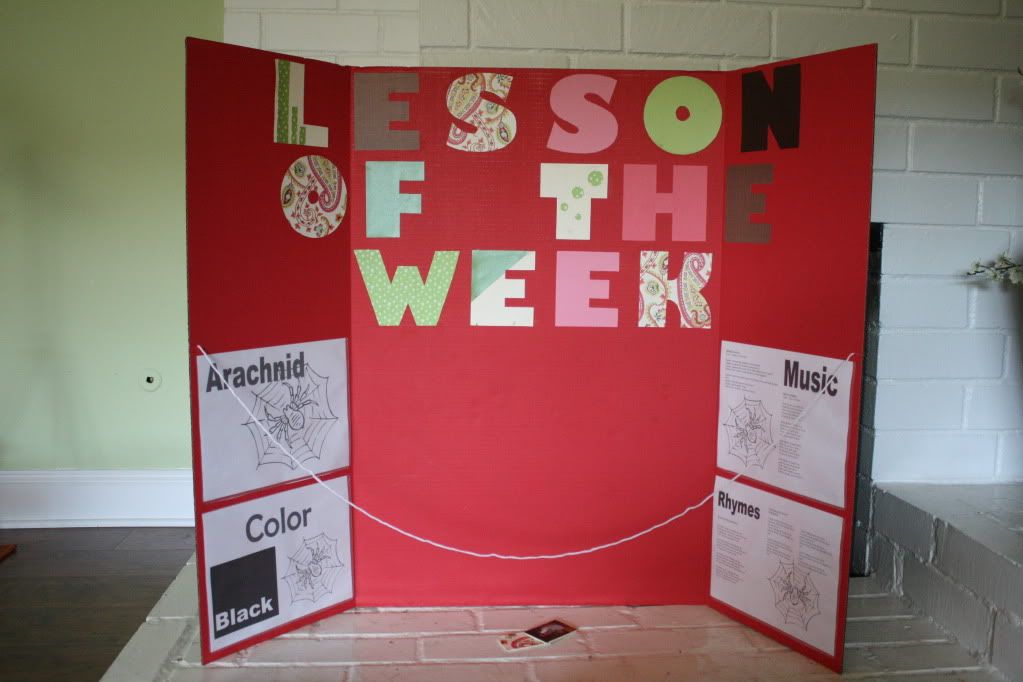 Last week I looked at Chris and realized that I could not remember a time that we couldn't communicate with Scarlett. She has been speaking and using language or signing since she was a year old and recently making crazy connections, using sentences, voicing opinions, and learning. So I decided to take advantage of this "excited to learn stage" and start adding a theme to our week. This week is spiders. I printed out pages with music, rhymes and color of the week all revolving around the theme and hung a string on the board so Scarlett can keep all of her weekly art projects hanging on her learning board.
This week itinerary...
Sunday -
build spider web on the window
, teach how spiders build webs and catch their food
Monday- morning story time - read "
The Very Busy Spider
"
go to library and pick out two/three spider themed books
spend the day with cousins, make
spider hat
and teach anatomy of spiders
Thursday - morning story time - read spider books from library
go on an early morning spider hunt - search out side for spider webs
lunch time spider sandwiches - peanut butter sandwich cut into circles and use
pretzel sticks for legs
sing songs and read rhymes - act out songs, dance and play like spiders
hunt for things in the house and outside that are the color black and take pictures
thumb print art project - use thumb to create spider body and draw 8 legs
I have to squeeze all my spider ideas into the two days that I am home with Scarlett so it might be an overload...but so far she has been super receptive and really loved learning.
Next week...pumpkins. I think I am a little more excited about this theme than she ever will be. Pumpkin patches, pumpkin pie, orange/fall decorations. I can't wait to bring a little more autumn into our home and what better way to do than under the guise of learning.
Vote for us...