This weeks food...
Egg Breakfast - made in advance for breakfast on the go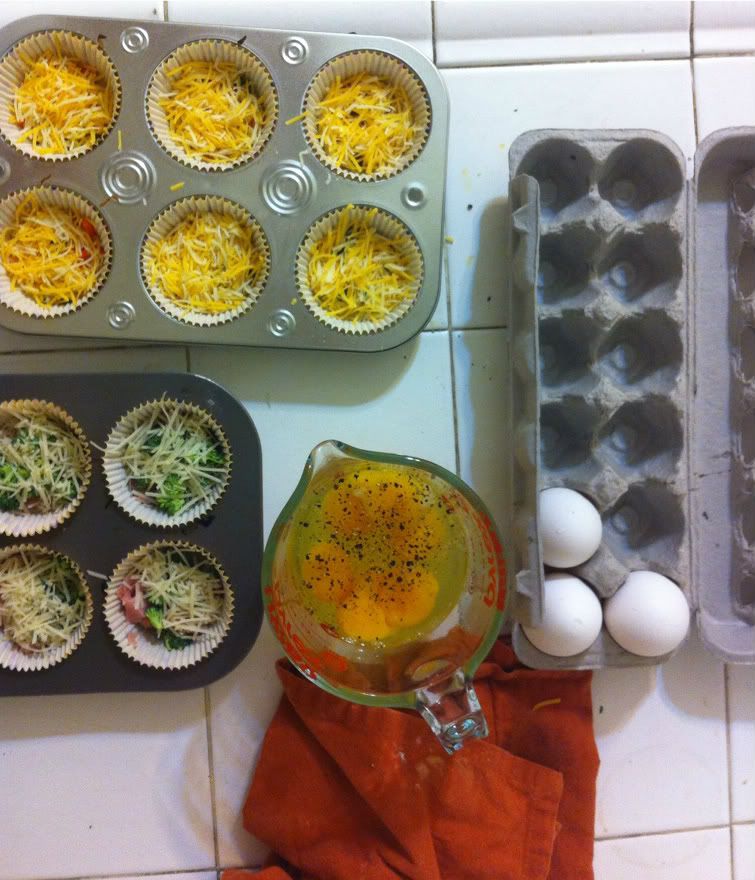 What you need -
Eggs ( I used 9 eggs for 12 small muffins)
Salt and pepper
Extras- veggies and cheese of choice (the more veggies the less the fat content)
How to make - ( I made two kinds 1)cheddar, red pepper and green onion 2) ham, broccoli, and parmesan cheese)
*Recommended to use silicon muffin cups...I used metal because it was all we had and the muffins got super stuck to the paper cups. Make sure you spray the silicon/paper cups with non stick spray before adding ingredients. If using paper make sure you use two, the egg mixture soaks through if only using one. I learned this the hard way.
Pre-heat oven to 375
Cut veggies and meat into small pieces and layer on bottom of cup. Top with cheese. Cup should be about 2/3 full. Mix together egg, salt and pepper (or any other seasonings of choice) into a pourable container . Pour egg into muffin cups until cup is about 3/4 full. Give a quick mix with a fork.
Put muffins in oven for 25-30 minutes until puffy.
Eat hot out of the oven or let cool completely and put in fridge for a breakfast on the go (will last up to one week in fridge). If reheating, microwave for 30 second and enjoy!
Snack -
At around 11 o'clock I find myself antsy for something small to fill my tummy.
Hard boiled egg with a sprinkle of salt, string cheese and 3 slices of turkey
Fennel Salad - Fennel, olive oil, salt, pepper, fresh lemon juice
Cucumber salad - cucumber with salt, pepper and olive oil topped with low fat plain yogurt (I whipped the yogurt a little so it was a creamier), feta cheese and oregano
Lunch -
aka Salad, salad and more salad
Tuna salad on spinach, with grape tomatoes, string cheese and light vinaigrette dressing
Tuna salad, 1/2 avocado sprinkled with salt and pepper
Dinner -
Slow cooked beef roast with onions and roasted red peppers - recipe
here
Desert -
For those with a sweet tooth but can't actually eat anything sweet, meet the phase one
Coconut Almond Macaroon
-
What you need -
generous 2/3 cup slivered almonds
1 1/4 cup shredded unsweetened coconut
1/2 cup Splenda or agave nectar
generous pinch of salt
1/4 cup low fat yogurt
2 egg whites (I used extra-large eggs)
2 tsp. vanilla
Preheat oven to 325F/170C. Line a baking sheet with parchment paper.
Use a small food processor to chop almonds, just until they are ground but still a little chunky. Put the ground almonds, shredded coconut, Splenda (or nectar), and salt into a medium-sized bowl and mix together. Add two egg whites, yogurt and vanilla to dry mixture and mix until well combined.
Scoop out dough one tablespoon at a time and form into a round ball, then place on the baking sheet about 2 inches apart. Use a fork (or hands) to press each ball down into a cookie slightly less than 1/2 inch thick.
Bake cookies until they are nicely brown on the edges, about 25 minutes. Longer if you want a crisper cookie.
Enjoy!
Vote for us...