The evening begin with a perfect harmony of spring sunshine, salty ocean air and delicious handmade California rolls. Chris and I (emphasis on Chris) were in charge of the cocktail and were requested to provide something without the use of citrus. Unfortunately we are not creative cocktail makers and even more unfortunately (being pregnant) I am not a candidate for cocktail tasting. So after numerous trips to the liquor store and additions of gin, whiskey, grapefruit bitters, tonic, lavender soda and ginger mixer to our non existent bar we finally came up with a winner. Cucumber mint gin and tonic with a splash of grapefruit bitters and a spoonful of creme de violette for color. I snuck in one tiny taste and instantly wished I could have more. It was cool, light and refreshing. Perfect drink to begin our ocean view California themed dinner.
Cucumber mint gin and tonic
What you need:
Cucumber
Fresh Mint
Gin
Grapefruit bitters (optional)
Sugar
Tonic water
Creme de Violette (optional)
What to do:
Muddle sliced cucumber, fresh mint and a tiny bit of sugar in a cocktail shaker. Add gin, a splash of grapefruit bitters, ice and mix. Pour gin mixture into glass and top with tonic water. If using creme de violette just add a splash to the drink and it should drop to the bottom of the glass leaving a layer of purple at the bottom of your drink.
Our host's took us on a tour through their experiences of California, using the various landscapes to influence their course choices. A unique approach to California cuisine, offering story as the setting.
First course -
Open faced buffalo burger:
Ground buffalo meat (seasoned), served atop butter leaf lettuce and dijon mustard spread, topped with delicious pickled onion and aged cheddar cheese.
This dish called to memory the experience of a lazy drive on an open highway, the surrounding hills grazed by wild cattle. Windows down and music drowned out by the wind in your ears.
Second course -
Tomatillo gazpacho with pickled cactus and sour cream
Yum, winter in the desert. The chill of the gazpacho with the heat of the pickled cactus was perfectly balanced to invoke the hot and cold variance found in the desert seasons.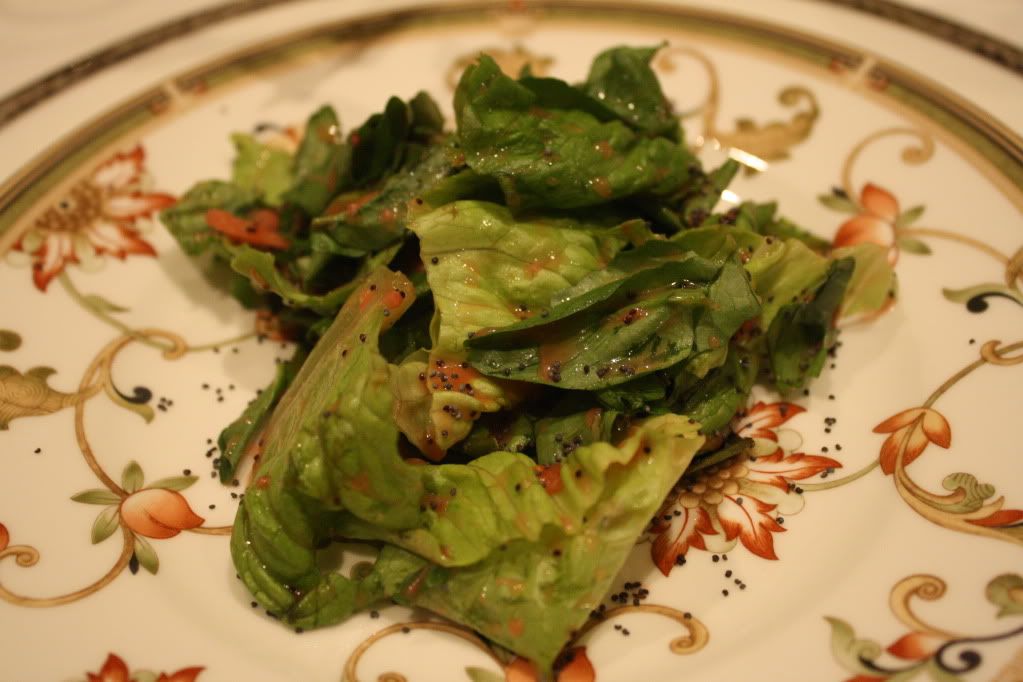 Third Course -
Strawberry poppy seed salad
This course set our escape to a brilliant field of colorful California poppies. The sweet strawberry flavor mixed with tangy vinegar and crunchy poppy seed sent the diners to a warm day in May, poppies as far as the eye can see and a basket of fresh picked strawberries ready to be devoured.
Fourth Course -
Trout ceviche with peppers, jalepeno, cilantro and avacado. Served with a homemade corn chip.
Fresh mountain air surrounded the table as we took our first bite into this spicy, tangy, creamy ceviche. The hosts explained the inspiration from camping trips of their past, where days were spent lazily hoping to catch a trout to cook over the camp fire.
Fifth Course -
Mole served with rice, sour cream and roasted quail
What is California without a trip across the border? The rich chocolate undertones of the mole mellowed the mixture of nut and the kick of spice.
Sixth Course -
Tri-tip served atop a thick corn cake. Accompanied by tomatillo salsa and homemade guacamole.
Forth of July BBQ at its peak. California Summers, kids running through the sprinklers, late warm nights eating dinner on the patio.
The perfect way to remind us all of how blessed and happy we are to reside in California. Thank you Wards for the beautiful tribute to our home state.
The hosts also served a palette cleanser of orange blossom infused vodka, and a dessert of rich creamy chocolate ice cream enjoyed on the "pier" (end of the dock). Both of which I failed to document. But both were thoroughly enjoyed by all (with the exception of me and the vodka).
Vote for us...