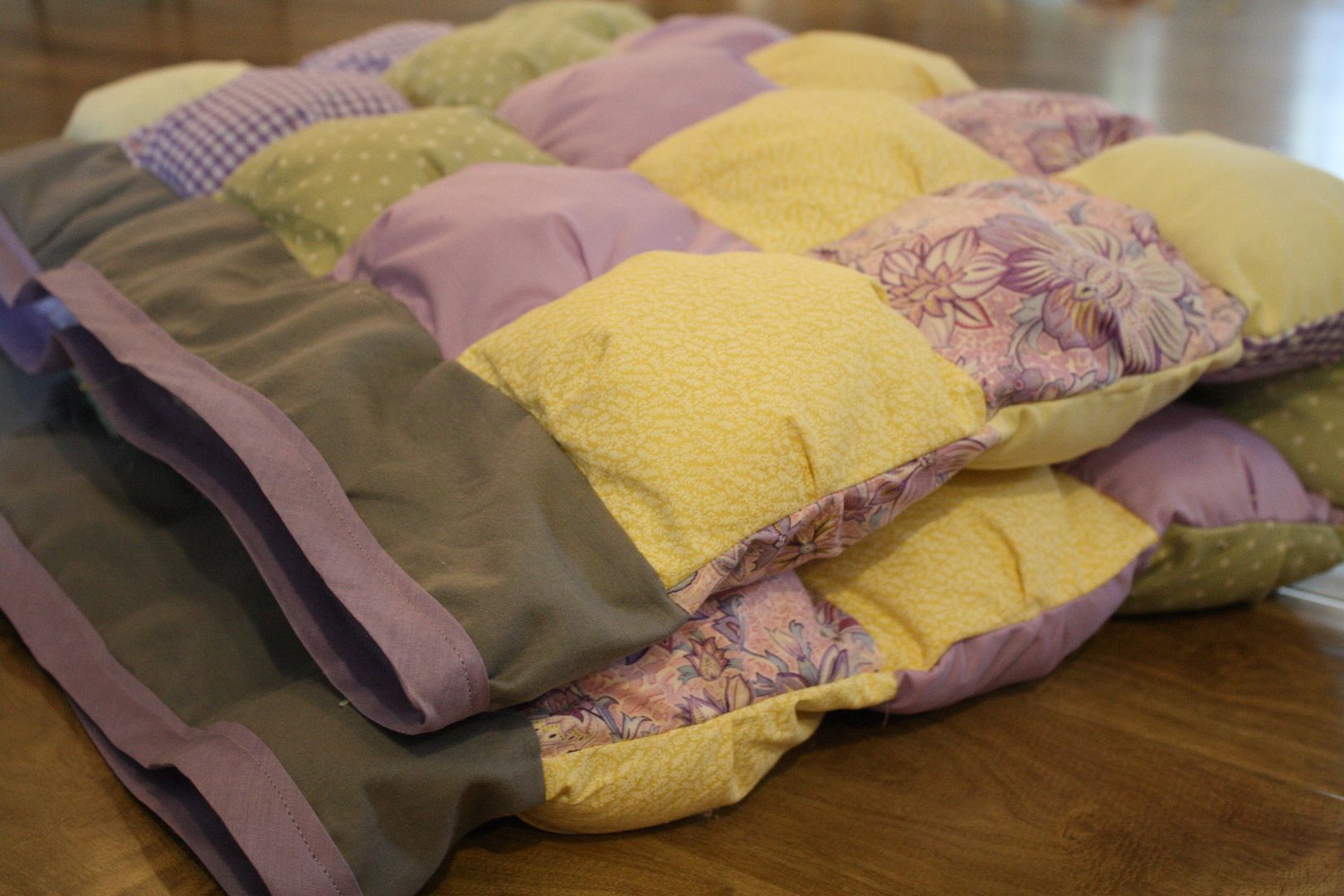 I made a puff (biscuit) quilt for my future niece and fell in love with the fluffy project. I did a little research on what I needed to create this quilt and how big I wanted it to be but I never found a tutorial that helped...so I kind of winged it, and thankfully I was happy with the results.
Print or download tutorial here.
This tutorial is for a baby/crib size quilt. (I used 6 different fabrics for the puffs and grey for the border.)
What you need:
Enough fabric in assorted colors for 70 - 6 x 6 squares. I bought a 1/2 yard of each fabric and made 12 6 x 6 squares out of each color and had some scraps left over. So essentially you need 2 1/2 to 3 yards of assorted fabric.
Enough fabric for 70 - 5 1/2 x 5 1/2 squares. This fabric will not be seen so you can use anything you have on hand or a simple muslin.
Fabric for the border (optional). I used fabric that I had left over from another quilt so I am not actually sure how much I used, maybe 3/4 yard. ( I had no idea how to put on a border so I totally winged it and drove myself absolutely crazy...so I recommend using something like
this
.)
1 1/2 yards for the back
Batting
Bag of fiber fill
Assembly:
Cut 70 - 6 x 6 squares for the front of your quilt
Cut 70 - 5 1/2 x 5 1/2 squares to attach to the back of your 6 x 6 squares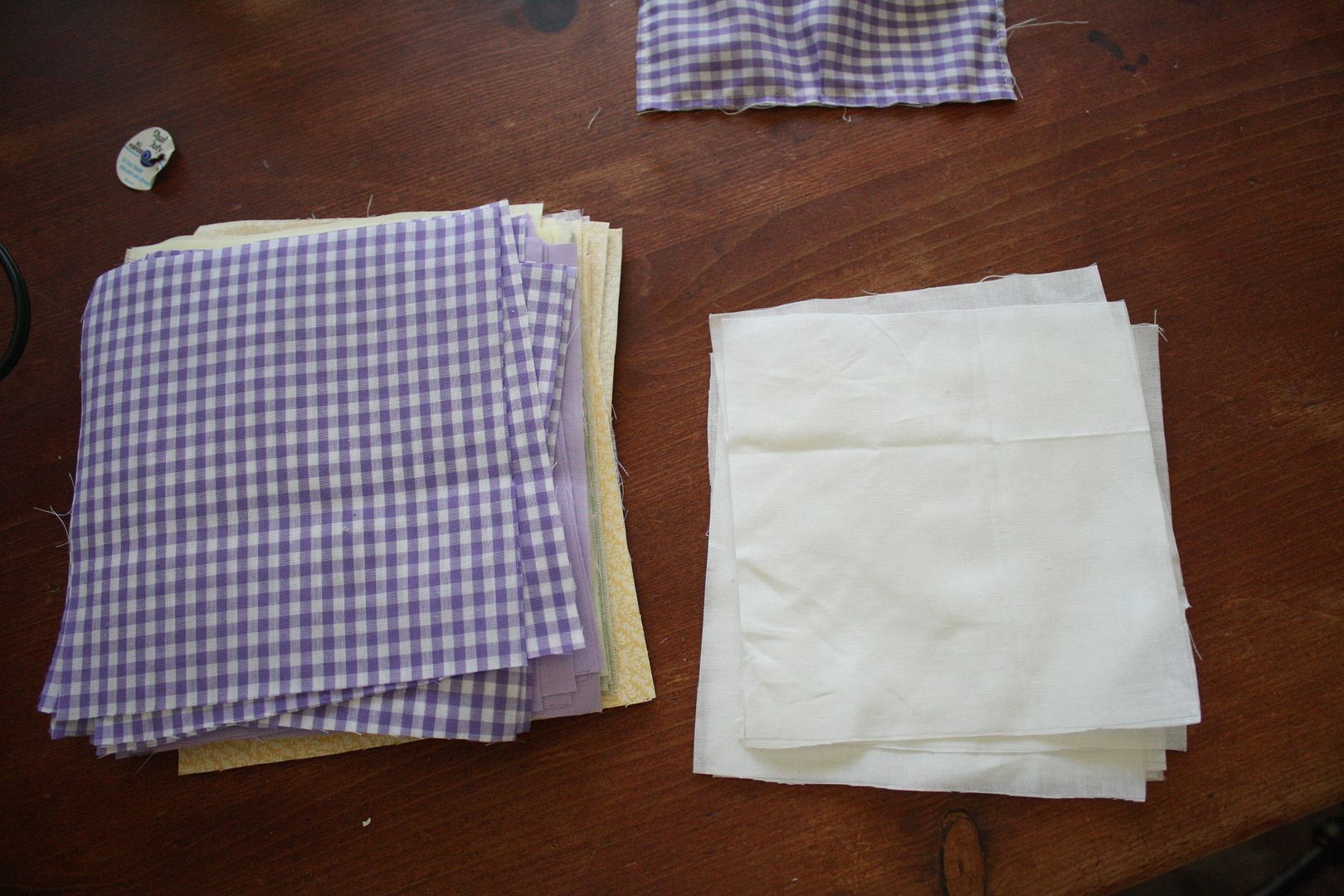 Take one of each square, with the wrong sides touching, pin together all four corners.
Pin three of the sides in the middle, creating a tiny pleat.
Sew the three sides together, making sure to leave one side open for stuffing.
Stuff square with fiber fill and sew final edge closed.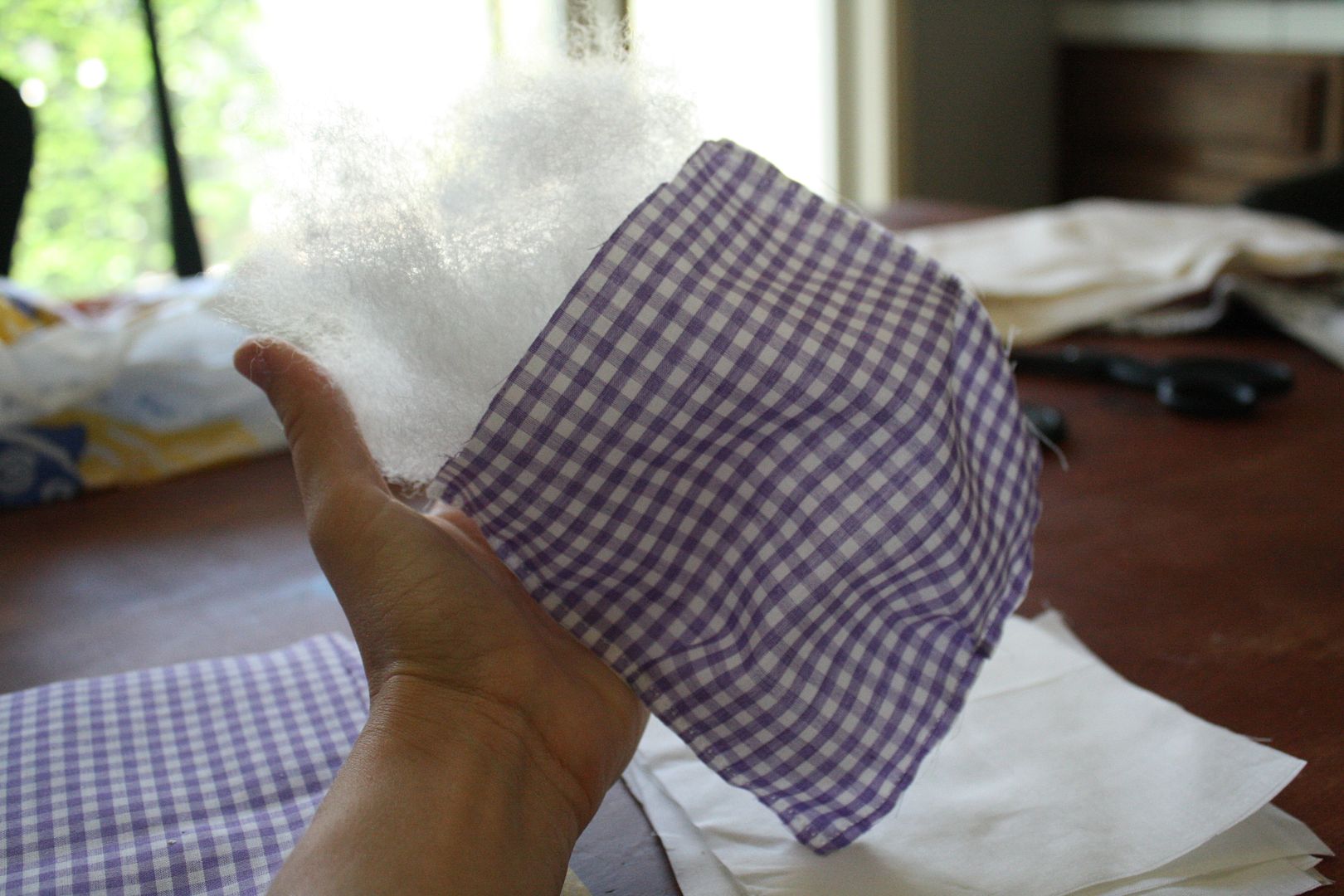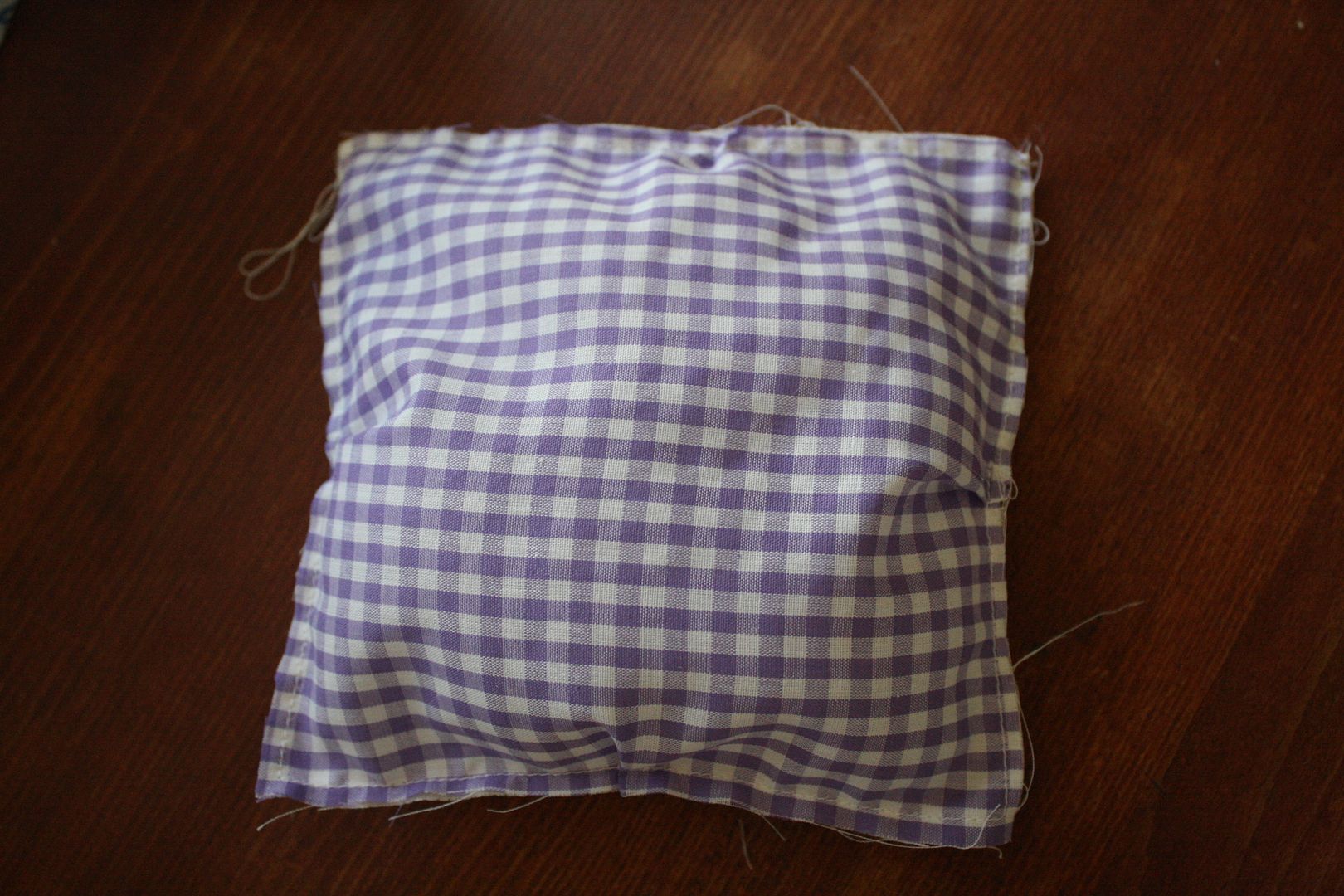 Continue this process with the remaining squares.
Layout the squares on the floor in the pattern that you want for the front of your quilt. I built mine 7 squares wide by 10 squares long.
Begin sewing the puffs, right side together, with a 1/4 inch seam, starting with the top row. Then sew the rows together to finish the top of your quilt.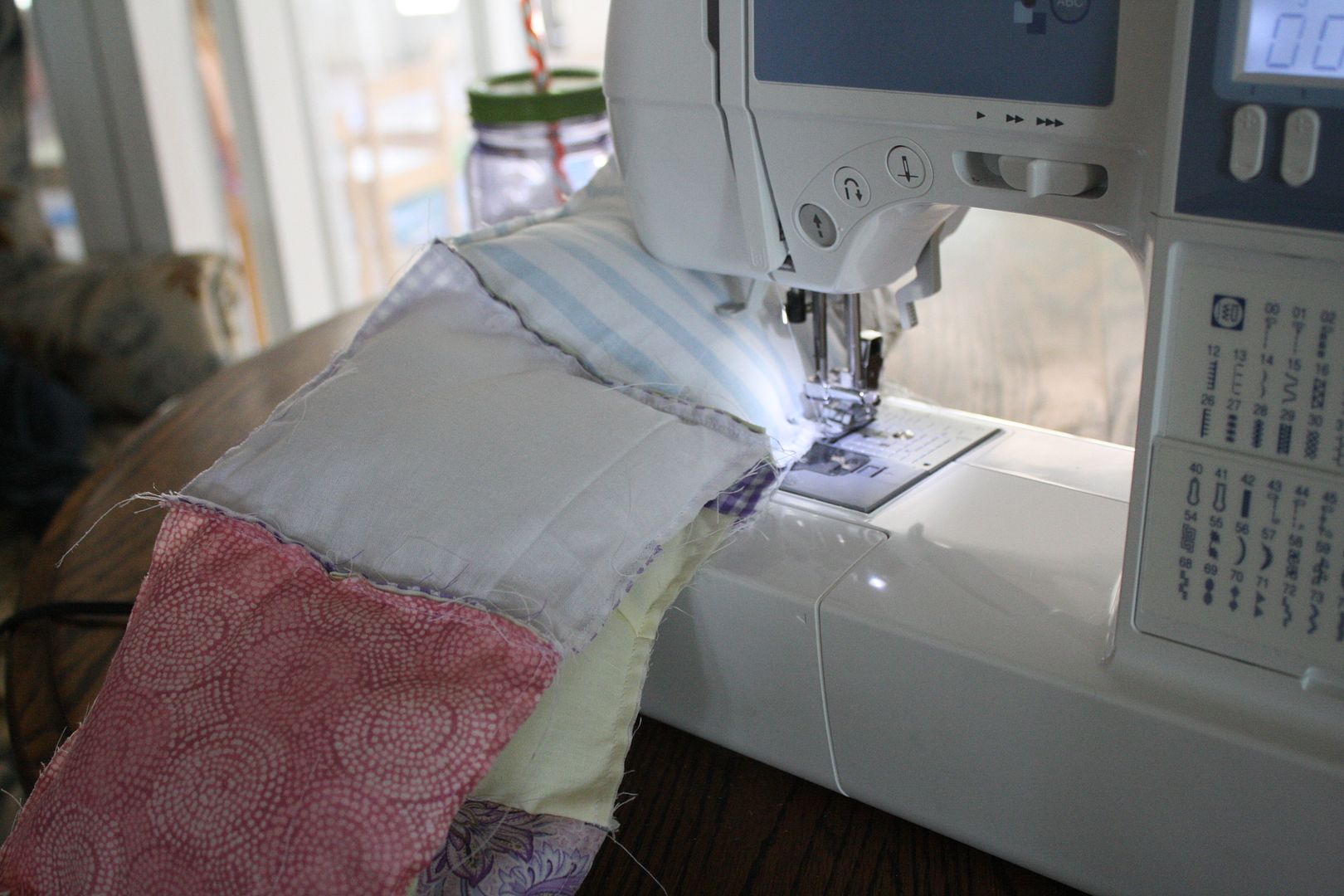 Now here is where you can decide to add a border around your puffy quilt top or just add the backing and bind it all together. I decided to add a border. So using your border fabric create four strips that will wrap around your quilt top. Make sure that you measure a couple extra inches on each piece because the puffiness of the quilt will cause the strips to shrink a little and you would rather cut off the access then have a seam in your border. (Unfortunately I know from experience. I had a seam...boo.) With the right sides together sew your border.
Now you can assemble the quilt backing, batting and quilt top together. I just tacked the three pieces together using embroidery thread but you could easily use a straight stitch to create some texture to the back of your quilt. Bind the quilt using hand made or store bought quilt binding in a color to match the quilt and you are finished. Sit back and enjoy all the hard work, or throw your little one on top and let them explore the heavenly blanket of puff.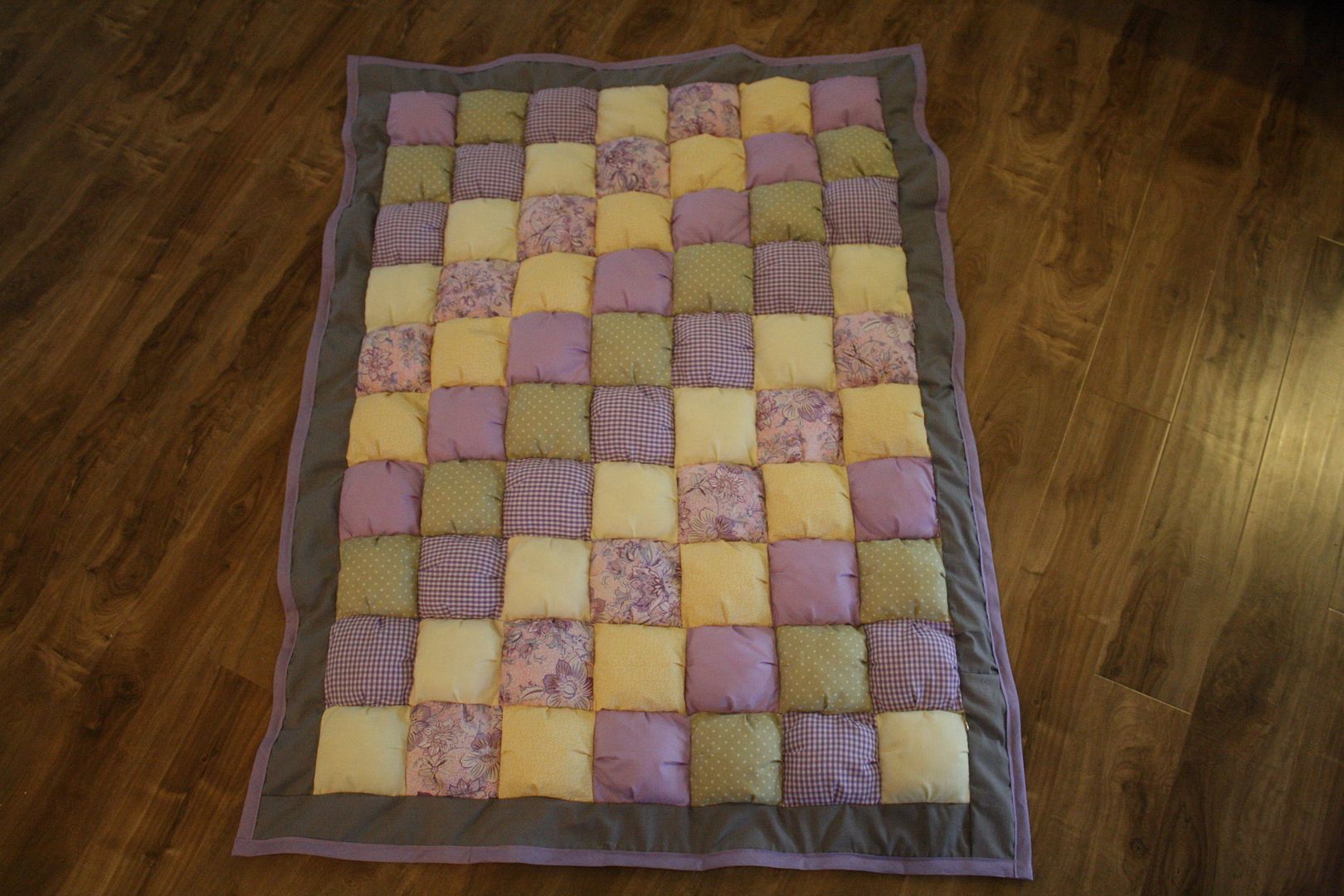 Print or download tutorial here
.