Chris and I are part of a hoity-toity supper club. There are five couples and many rules. Formal attire, five course minimum, all food and ingredients must be handmade from scratch, dinner must have a theme and food must challenge the guests pallet and senses. We have enjoyed themes ranging from a Greek feast, a Medieval Christmas, preservation methods, sacred sandwiches, and soul food (food that incorporated the progression of the soul from the Garden of Eden to Eros). Each couple prepares their meal once a year for the other four couples. The host's prepare the food, the guests bring the wine. We love dressing up, we love eating great food that challenges our taste buds, and we love preparing an over the top meal for our friends.
Last year our theme was hunter/gatherer. Chris caught or shot all of our protein and we picked all of our vegetables and fruit from a local farm. This year we decided to push ourselves a little further and chose a simple theme with challenging recipes.
Our theme was stuffed foods...and here was our menu:
Cocktail hour
-
Appetizer Course
-
Egg shell layered with scrambled egg whites, creme fraiche, cured ham, egg yolk, and topped with a truffle white fish caviar.
Salad Course -
Avacado skinned and stuffed with grapefruit, blood oranges, radish strings, candied pecans and smoked salmon. Tossed in a homemade red wine vinaigrette dressing.
Soup Course -
Handmade shrimp and coconut stuffed won-ton served under a chilled carrot, coconut, curry soup.
Fish Course -
Stuffed salt crusted sea bass served with an ice wine nage
Main Course-
Bone in pork loin stuffed with currants, pine nuts, parmesan cheese and sage. Served atop a creamy cauliflower puree and sauteed asparagus spears.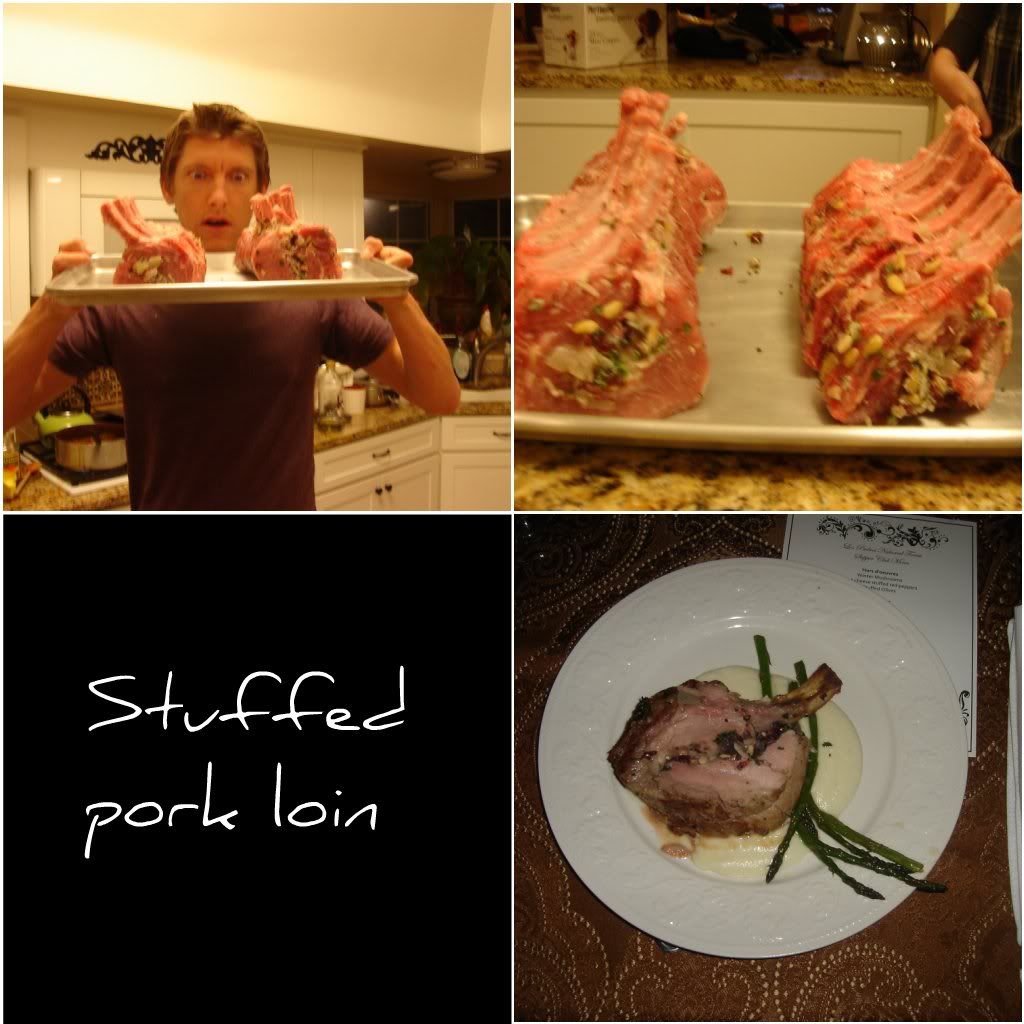 Dessert -
(sadly no pictures were taken of this course)
Stuffed french toast - challah bread sliced and stuffed with dried cherries (reconstituted in grand mariner and orange juice), bananas and cinnamon. Fried in a grand mariner vanilla batter, topped with a dark chocolate ganache, sprinkled with powder sugar and served with a dollop of homemade orange butter.
It was the most effort we have put into a meal in our entire lives but a good dinner was shared and enjoyed by all...and we are already in the planning stages for this years festivities.